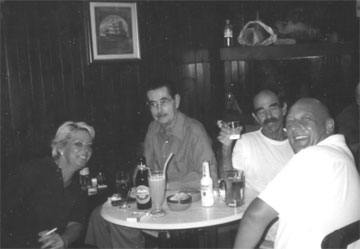 On the basis of today's tavern there was one of the oldest-known haunts of the city of Rethymnon, which functioned as a traditional coffee house, opened by the grandfather of the current owner, at year 1950. He liked to welcome and take care of his friends and patrons of the cafe.

At year 1970, the business was undertaken by the current owner's father, who continued the business, but making significant changes, creating the tavern.

At year 1994, the current owner with his father decided to expand the business and double the amount of space so that now has two entrances, one from the street Mahis Kritis 6 and one from Ionia street. The result was amazing.. Because when you visit us, you will see that at 1 and 1 restaurant you can enjoy your food in the greenish and quiet terrace of the tavern, and you can enjoy your drink on the other side if you prefer activity and communication with local customers!

The food is cooked with traditional recipes and natural ingredients including Cretan olive oil. The wine is also homemade Cretan. You will enjoy the excellent service and friendly environment. For all this we have received praise from European agencies many times.

The restaurant is just 200m from the sea and the surrounding area offers a traditional oven with bread and cakes, fish spa, supermarket, apartments, hotels and camping. We also offer free internet and free parking.